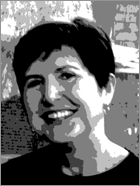 I'd rather it took over me than I took over it. (Myfanwy Pavelic)
Brief Bio
I am a native Californian and earned a BA with a major in Fine Arts. I studied under Robert Colescott and Martin Camarata. However, my business life took me into other directions... the fields of commercial printing, publishing & advertising. Being grateful for these past experiences, I am now devoting full time to my drawing and painting. I am currently studying under Robin Hall and Fred Hope to improve my drawing and painting skills. I have also been fortunate to have had the opportunity to attend classes and workshops under some exciting contemporary artists… Scott Yeskel, Ken Auster, Mary Aslin, Ray Roberts and John Cosby. I find I am inspired by Joaquin Sorolla, Sergei Bongart, S. C. Yuan, Euan Uglow, Wayne Thiebaud, Richard Diebenkorn, Catherine Kehoe, Russell Chatham, my cats and the wonderful people I meet.


Artist Statement
I am most comfortable expressing myself through paint. I prefer oil and acrylic mediums. I prefer drawing and painting from life but do use my own photos when necessary. The process begins with a spark that ignites a feeling or mood that compels me to communicate through my brushes and knives. I respond to the light and shadow, the colors and temperature of my surroundings, to the sounds and smells, or lack of. Indoor or out, my world encompasses these senses… nothing else seems to exist during this creative process.

I am currently painting somewhere between contemporary impressionism and realism. As I become more confident through my daily practices… I hope to find a clearer voice. Honing my observational skills... keeping my idea simple… believing less is more are my constant challenges. Learning how to find economy in my strokes. I strive not to lose my original intent... maintain the boldness in strokes, freshness in color and some spontaneity. At the 1st sign of indecision or a loss of painting energy, is when I need to trust in knowing when to stop without overworking a painting to death. I have found that setting the piece aside and revisiting it with fresh eyes and maybe a little more insight is best... but not so easily accomplished.


Exhibitions
2014, 2012, 2011, 2010 Art That's Small at City Hall, Laguna Beach, CA
2012, 2011 55+ Art Exhibit, Laguna Beach, CA
2011 SCAA, Small Art, Laguna Beach, CA
2009 Juried Fine Art Exhibition, Laguna Beach, CA


Memberships
California Art Club - Associate Artist
Laguna Plein Air Painters Association